Lobi Store and Key Sales!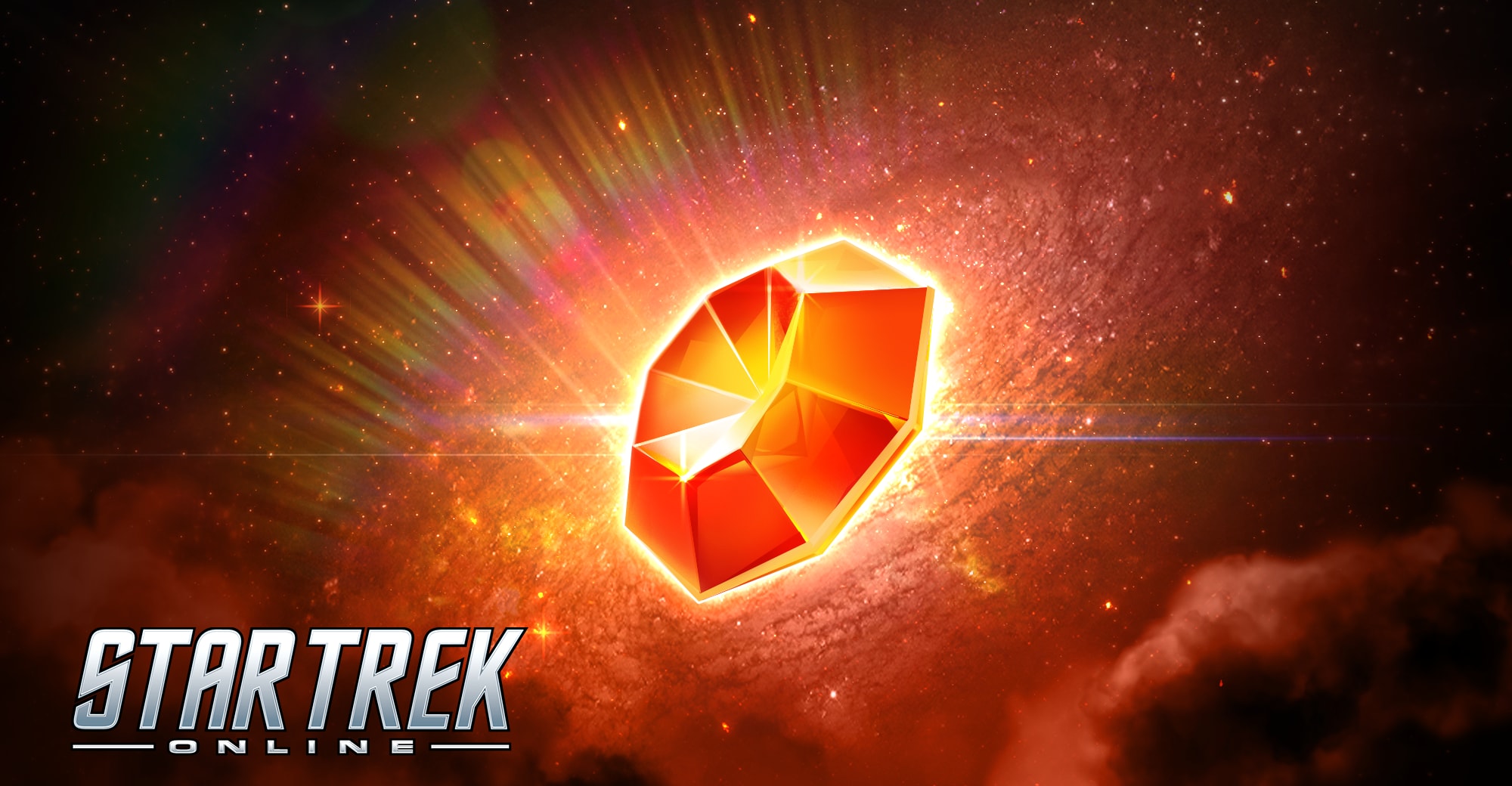 Any wise Captain knows that when a sale this good comes your way, it's best to take advantage of it. We're pleased to announce that Ferengi Merchants are putting a 15% sale on Keys from May 14th at 8am PT to May 20th at 10am PT. Now is the best time for Captains to load up on your Keys and grab those ships you've been eyeing.
Remember Captains, Rule of Acquisition # 22: A wise man can hear profit in the wind. Now is the time to act.
For a limited time only starting today, players will be able to purchase the Key Ring Bundle! This special pack includes 20x Master Keys (used to open any Lock Box) for the price of 2250 Zen.
As an additional special promotional offer when purchasing this bundle, every pack also includes a single Ultimate Tech Upgrade. Applying this item to any upgradeable piece of equipment will instantly set both its Mark and Quality to maximum (usually Mk XIV and Epic/Gold quality) with zero Dilithium Cost!
This promotional bundle will be available in the C-store from May 14th at 8am PT to May 20th at 10am PT.
The Lobi Crystal Consortium is pleased to announce their latest featured sale! from May 14th at 8am PT to May 20th at 10am PT, shrewd Captains will be able to choose from their wide selection of wares, just by visiting the in-game Lobi store. All items in the Lobi Store will be 20% off for this entire sale! Now's the best time to take command of a Kelvin Timeline Intel Dreadnought Cruiser, or get your hands on a Boolean Heavy Assault Cannon, or fly the stars in a Vaadwaur Astika Heavy Battlecruiser. Enjoy, Captains!


The Return of Discovery TFOs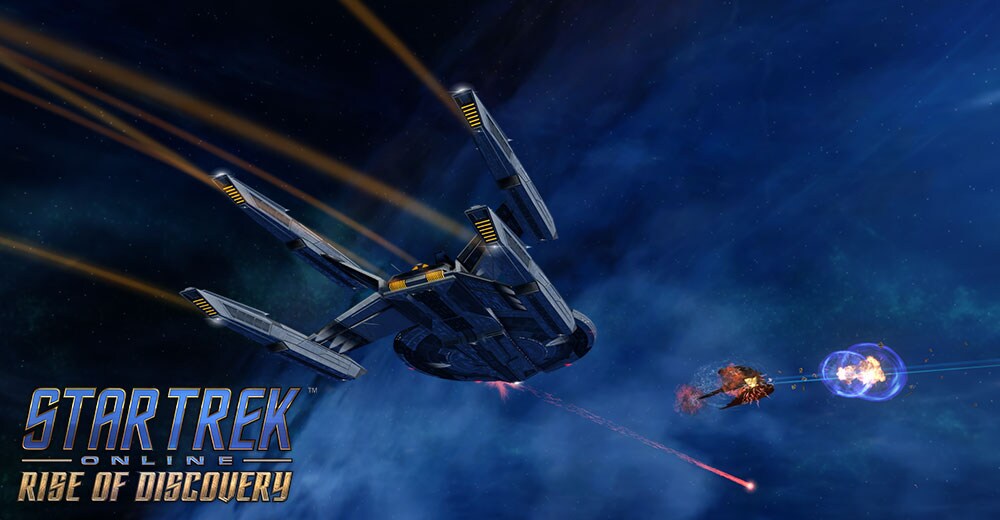 With the launch of the Discovery Legends Reputation, we want to make sure Captains have a wide variety of content in which to earn progress towards their new items. With that in mind, starting with the launch of Rise of Discovery on May 14th, you'll receive Discovery Marks from the returning Task Force Operations Pahvo Dissension, Peril over Pahvo, and Operation Riposte. The Defense of Starbase One will also be joining this reputation, switching over to grant a choice of Discovery Marks or Fleet Marks on completion. The Advanced and Elite versions of these TFOs will grant P.stellaviatori Spores as well. This means the reputation will be launching with four Task Force Operations that you can use to advance in it, and gain the technology and powers of the characters of Star Trek: Discovery. Enjoy, Captains.


The Section 31 Lock Box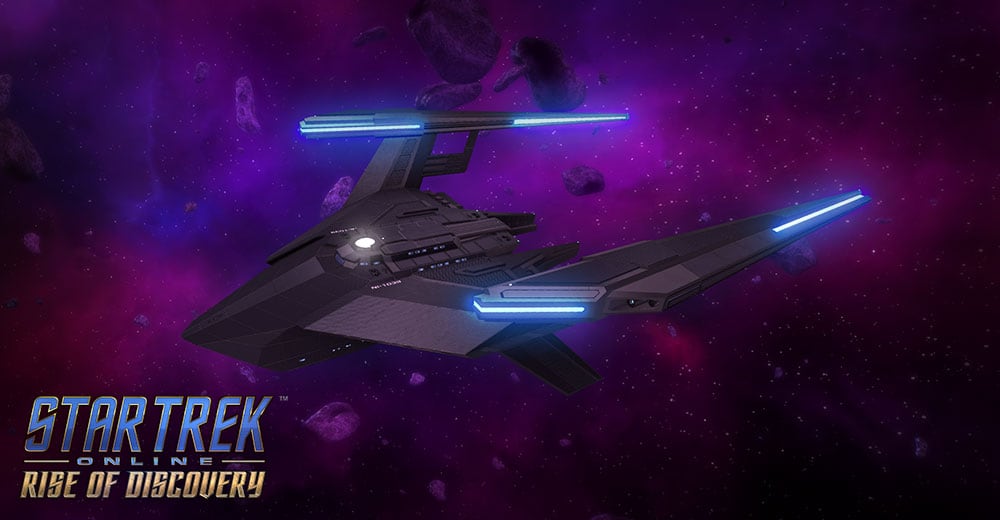 The Section 31 Lock Box contains unregulated tech, often secret prototypes that never saw full production, advanced technology waiting for wider adoption, and sometimes stranger things still—even "borrowed" Terran or alien technology. The less Starfleet science required, the more plausible the deniability.
This offering includes a ship, space weapons, personal traits, and an unusually large variety of universal consoles, starship traits and kit modules. Each box also contains a Faulty Section 31 Holo-Disguise which breaks upon entering combat, apparently some sort of economic inducement. Typical.
The Section 31 Lock Box contains two highly advanced Grand Prizes: the Section 31 Intel Science Destroyer [T6] and the Na'Qjej Intel Battlecruiser [T6]. More details about both ships will be available in a future blog post.
More information here: https://www.arcgames.com/en/games/star-trek-online/news/detail/11157043

Rise of Discovery: The Impossibility of Reason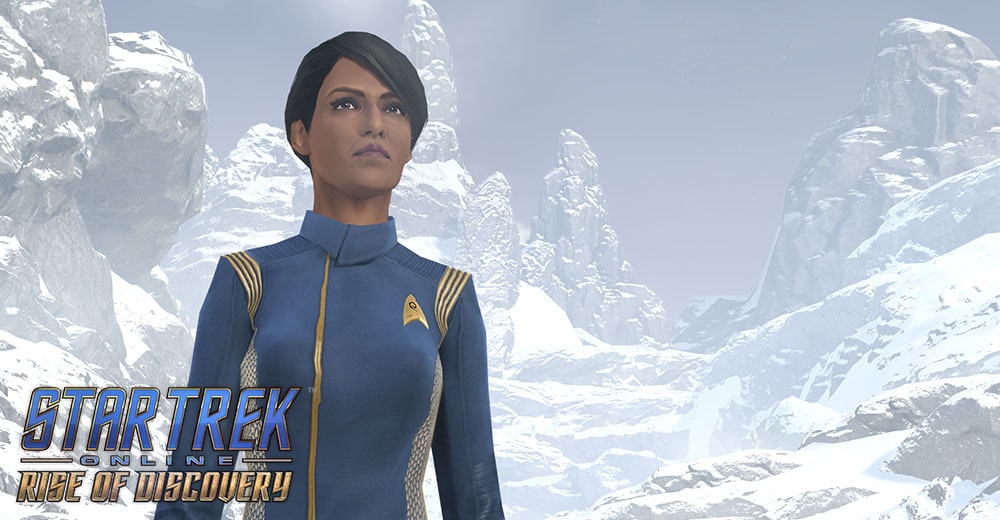 "Impossibility of Reason" is a new mission following the story and events of "Plausibility of the Possible." After Klingon captives from the Priors World skirmishes escape from custody, it's a race to get back in time to aid the Buran against further Klingon attacks. With Commander Landry and her security team along for the battle, it's up to you to rescue Buran, save Priors World from invasion, and stop the attacks by the Klingon Captain Aakar! Experience the events that led Ellen Landry to become the hardened Chief of Security aboard the U.S.S. Discovery.
You can access this mission from your mission journal. Captains of all factions will be able to play "Impossibility of Reason" when Rise of Discovery arrives.


Introducing the Discovery Legends Reputation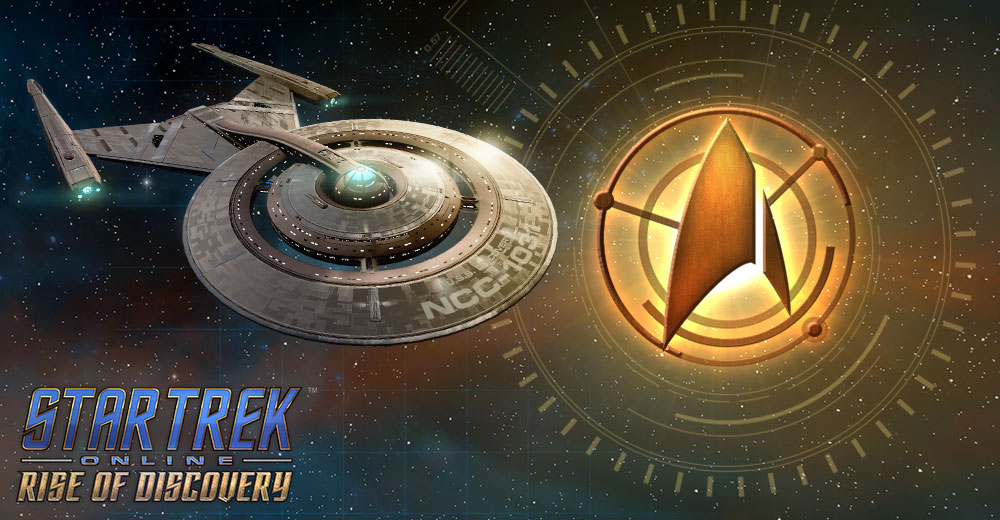 The Discovery Legends Expedition seeks to understand the pivotal events of the 2250s and the people those events revolved around. The consequences of this time continue to resonate through the galaxy today, and J'Ula has made it painfully clear that more secrets remain to be found. Separation of fact from myth is necessary. A mix of black market acquisitions, archeological expeditions, and defense industry research, this group seeks to catalogue and remember the facts of our history.
This new reputation will be available with Rise of Discovery and will feature all new traits, kit modules, space equipment sets and a ground equipment set, as well as new ground armor and space visuals.
More information here: https://www.arcgames.com/en/games/star-trek-online/news/detail/11152283


Star Trek Online: Rise of Discovery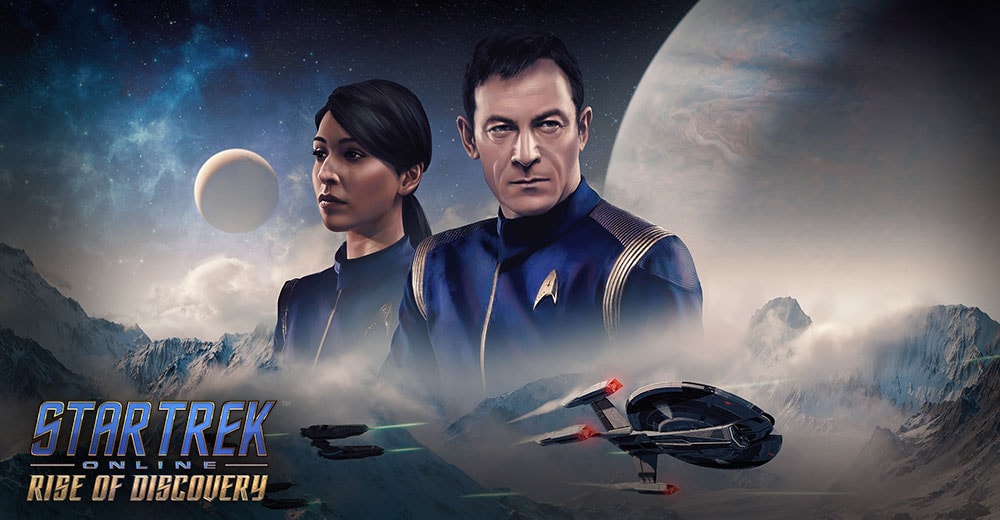 We're happy to announce that the next major update to Star Trek Online, Rise of Discovery, is coming to PC on May 14th, and to Xbox One and Playstation 4 this summer. This brand new update will be lead by two alumni of Star Trek: Discovery: Rehka Sharma, and Jason Issacs, as Commander Ellen Landry and Captain Gabriel Lorca. This new adventure will feature two new episodes that show Captains the fate of the U.S.S. Buran, and the past of these two fascinating characters, before Captain Lorca took command of the U.S.S. Discovery.
But that's not all. As part of this major update, we'll be releasing the brand new Discovery Legends Reputation. Players will be able to earn new Discovery marks from the returning TFOs "Operation: Riposte," "Peril over Pahvo," and "Pahvo Dissension," which they can apply towards two new space sets, a new ground set, new kit modules, new traits, and a new costume. And for the first time, all of our T6 Starships will become scaling ships, meaning that you can fly the most powerful ships in the game at any level, and they will become more powerful as you do.


Command Tier 6 Ships at Any Level!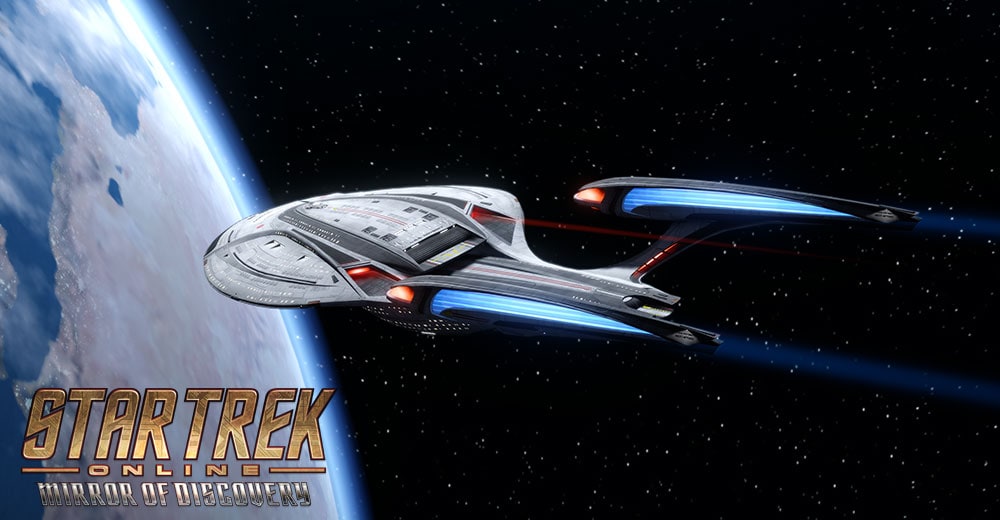 Begining very soon, players of Star Trek Online will have the opportunity to fly any Tier 6 Starship that they own, regardless of their characters' levels!
Pursuit of this feature began as an experiment with the Prototype Walker, and was later refined over the course of multiple subsequent ship releases, including the Mirror Universe Engle, Shran and M'Chla Pilot Starships, T'Pau Scout Ship, and Styx Terran Dreadnought, among others. With so many successfully-released starships now available to players, this experiment has solidified into a feature we are excited to pursue for all existing Tier 6 Starships, as well as all new ones going forward. We've seen a great deal of excitement and appreciation from players over removing the level restrictions on the aforementioned ships, along with the scaling mechanics represented in those ships. The impact these prototypes have had on the game has been overall positive from our perspective as developers, as well.
Removing level restrictions on so many premium starships allows us to eliminate a barrier that was keeping many players from immediately being able to fly and appreciate the ships they had won or purchased, whether that was from the C-Store, a Lock Box, or from the Exchange. And by replacing the "standard issue" equipment with gear that scales along with you, we are removing some of the further pain points of using these scaling ships as you level up, as any gear you haven't been able to upgrade with drops or mission rewards, will at least stay level-appropriate.
So, what – exactly – does this mean for you?
All Tier 6 Starships may now be flown by characters at any level, provided they have completed the Tutorial Experience for their chosen starting faction.
What the "Tutorial Experience" encompasses is different per starting faction, and encompasses the completion of all Missions up to and including the following:
2409 Federation = "Welcome to Earth Spacedock"
TOS Federation = "Explore Earth Spacedock"
DSC Federation = "Reporting In"
Klingon = "First City"
Romulan = "Explore the Flotilla"
Dominion = "Turn the Tide"
Level restrictions on the starships and associated reward packs have been removed.
This change allows for characters to immediately commission ships obtained from Lock Boxes, Promos, Events, and other non-C-Store sources.
More information here: https://www.arcgames.com/en/games/star-trek-online/news/detail/11138733
Star Trek Online Spring and Summer Road Map!
It's time for an update to the Star Trek Online roadmap! Want to know what's coming in the world of STO? Here's some things for you to look forward to: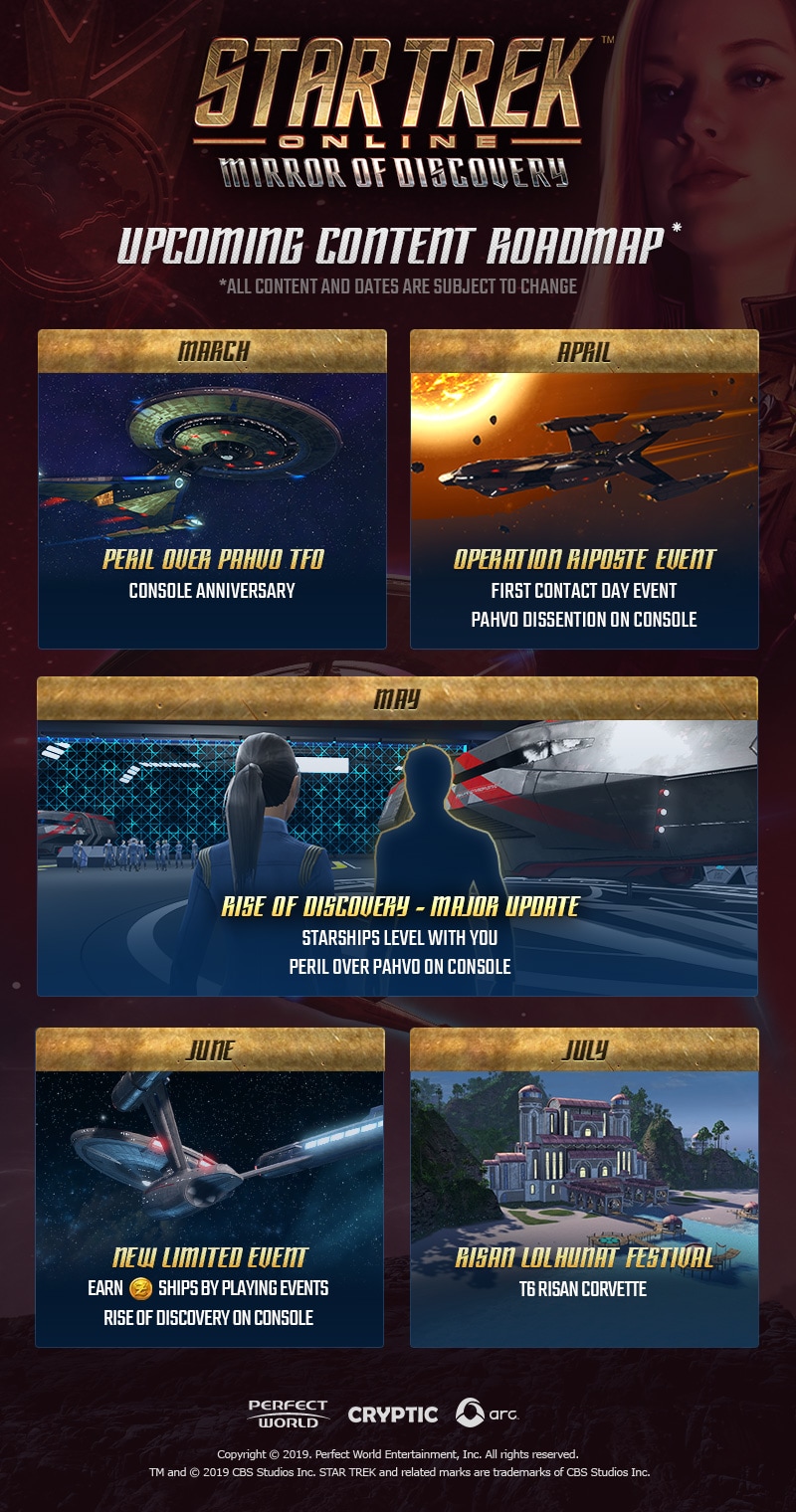 Enjoy the game!