Double Experience Weekend!



Attention!
We've doubled our efforts to give Captains the necessary experience to deal with threats to the Galaxy. From Thursday, June 13th at 8AM PT, to Monday, June 17th at 10AM PT, players will be able to enjoy twice the experience!
During the event, content that provides skill points and expertise will reward a 100% (2x) Bonus above normal amounts – this bonus will be available for all content that rewards skill points and expertise.


Deep Discounts in the Weekend Event Store!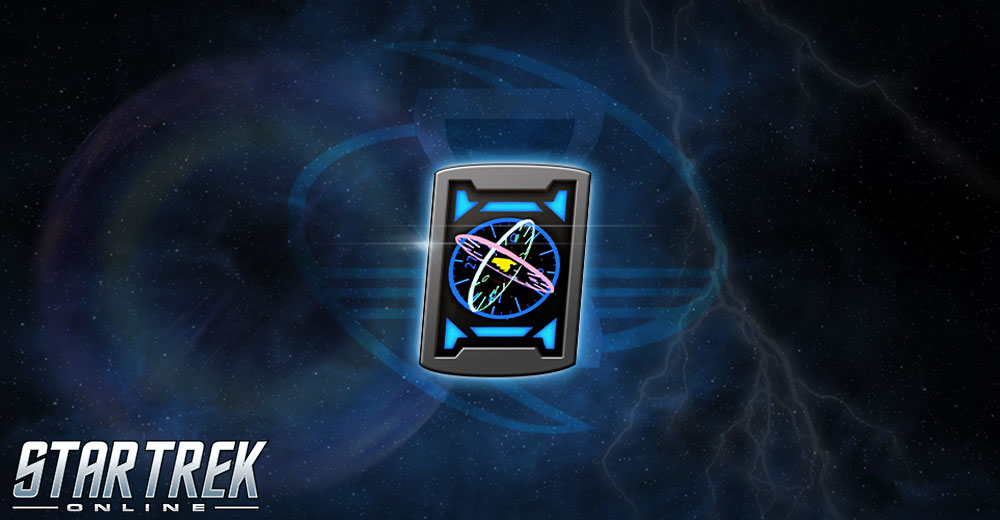 As part of our ongoing attempts to streamline the process of playing events in Star Trek Online, we are going to be making some changes to the Weekend Event Store on PC, and later on Xbox One and Playstation 4, giving you access to everything in the store for the price of one Weekend Event Token each. Like the changes to previously slotted events, these changes are designed to get you access to the items you've worked for, while also freeing up inventory space and moving towards how events will be working in the future. All Events will soon be running through a newly designed Event system which will make the processes of playing an event, and getting your rewards, more intuitive and more fun. That's why we're consolidating event currencies moving forward.
Starting on June 13th 2019 on PC, and August 8th 2019 on Xbox One and Playstation 4, every item and reward in the Weekend Event Store will be reduced in cost to a single Weekend Event Token. If you have any tokens remaining in your inventory, you may use them to your hearts' content to buy whatever items you'd like. After this date, we will no longer be running events that give out Weekend Event Tokens – so make sure you buy the things you really want!
Then, on August 1st 2019 for PC, and September 10th 2019 for Xbox One and Playstation 4, all rewards and items will be removed from the Weekend Event Store, making way for a single purchasable item: A Phoenix Prize Pack that costs a single Weekend Event Token. This will be the version of the Weekend Event Store that remains, moving forward.
To summarize: Soon you'll be able to purchase everything in the store on a steep discount for a limited time, and after that, you'll be able to use any tokens you have left to purchase Phoenix Prize Packs. Get your hands on the rewards of the past, Captains!
Return of the Crystalline Entity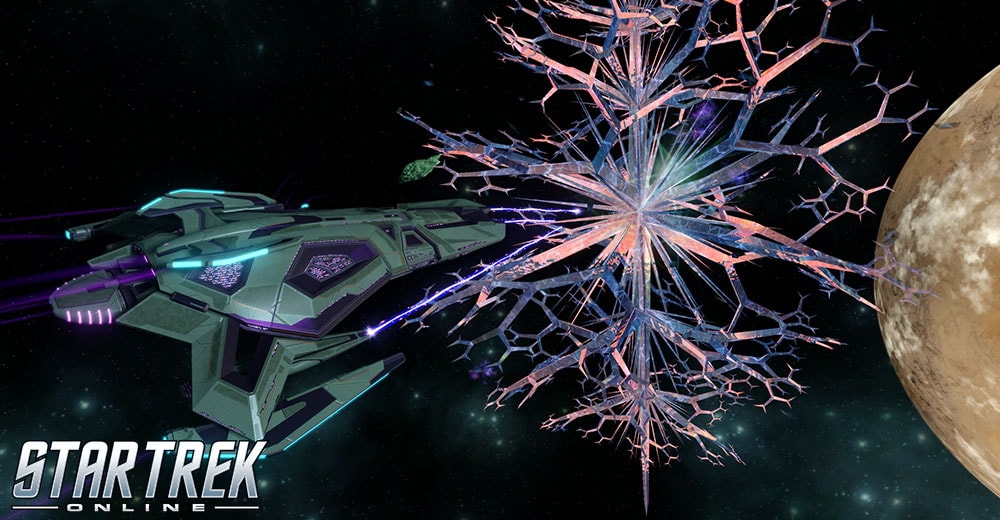 All hands on deck for a new spin on this popular, existing Task Force Operation! This time around, the Crystalline Cataclysm TFO will be joining the rank of other recent events as a Featured TFO. This change entails the following subtle differences from past runs:
Daily completion will reward a Featured TFO Commendation, rather than the Crystal Shards that were rewarded in the past.
There will be a buyout option associated with the Event, which can be purchased from the Zen Store to receive 10 Featured TFO Commendations and 1 Ultimate Tech Upgrade.
This TFO will be eligible for Ship Coupon Progress Tokens, as part of our ongoing multi-TFO Event.
As we pave the way for a future where all similar 3-week events live under the same banner as Featured TFO Events, we will be undertaking actions to clean up old Event Reputation Projects that will soon become deprecated under this new direction. Since none of the progress items previously rewarded by older versions of these events will be re-used, we have decided to take the following steps:
All slotted 14-token projects for the following Events will be automatically completed, regardless of the existing amount of progress made:
Crystalline Cataclysm
Into the Breach
First Contact Day
Kobayashi Maru
Mirror Universe Invasion
Sompek Arena
Projects completed in this manner will be awaiting you in your Event Reputation, ready to claim! This process will reward you the items, dilithium ore, and marks, as well as properly unlock Account-Wide reclaim as applicable.
All existing tokens used in the aforementioned projects will be automatically removed from players' inventories, as they will no longer have a purpose going forward.
Bonus Projects (those that unlock after completion of the 14-day Project associated with each Event) will be unslotted and made unavailable.
At this time, no changes will be made to past Summer, Winter, or Anniversary Ship Projects that are already in-progress on your characters.
More information here: https://www.arcgames.com/en/games/star-trek-online/news/detail/11175833

Bonus Progress Token Weekend!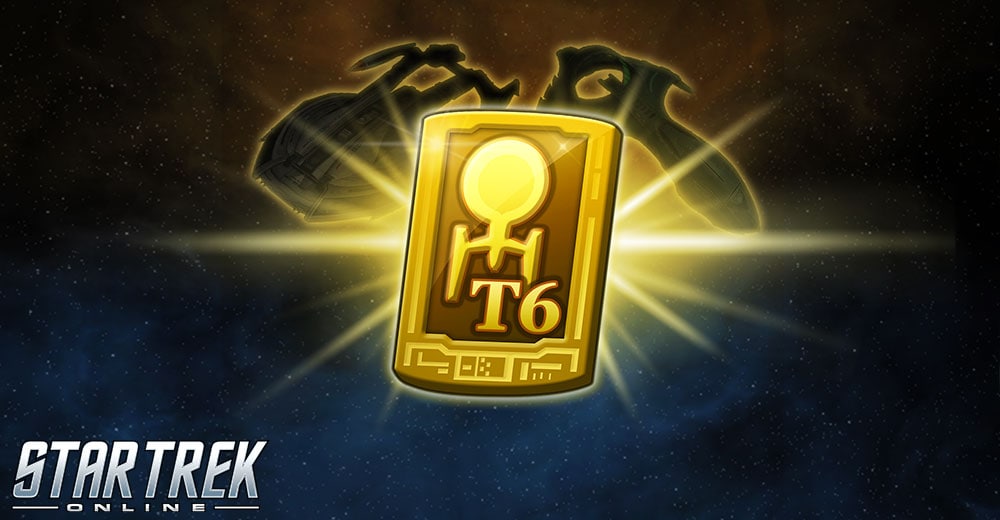 It's time for a Bonus Coupon Progress Token weekend! Playing the Featured Task Force Operation, 'Crystalline Cataclysm', from June 6th at 8am PT to June 10th at 10am PT, will earn you 100 Coupon Progress Tokens per day! You can apply these Tokens to your progress towards unlocking a Tier 6 ship of your choice! For more details on this new system, read below.
We're debuting a brand new system for Star Trek Online. Earn progress toward a Free Ship by participating each day in the Featured TFO Events that will be running from now until Fall of 2019. By playing these three Events, you can earn Coupon Progress Tokens each day, allowing you to eventually claim a '100% Discount Coupon: Tier 6 Ship' that will allow you claim a free Tier 6 Starship of your choice from the Zen Store.
When you play the 'Crystalline Cataclysm' Featured TFO Event, once per day, you will receive 50 Coupon Progress Tokens. Progress will be rewarded across your entire account, so you need only participate once per day to max out your potential progress. Keep an eye out for Featured Event Coupon Bonus Days, which will double any progress that you earn while they are active! After you've earned a total of 3000 Coupon Progress Tokens, head to the Reputation menu to claim your prize.

Snow Gear Fashion Contest!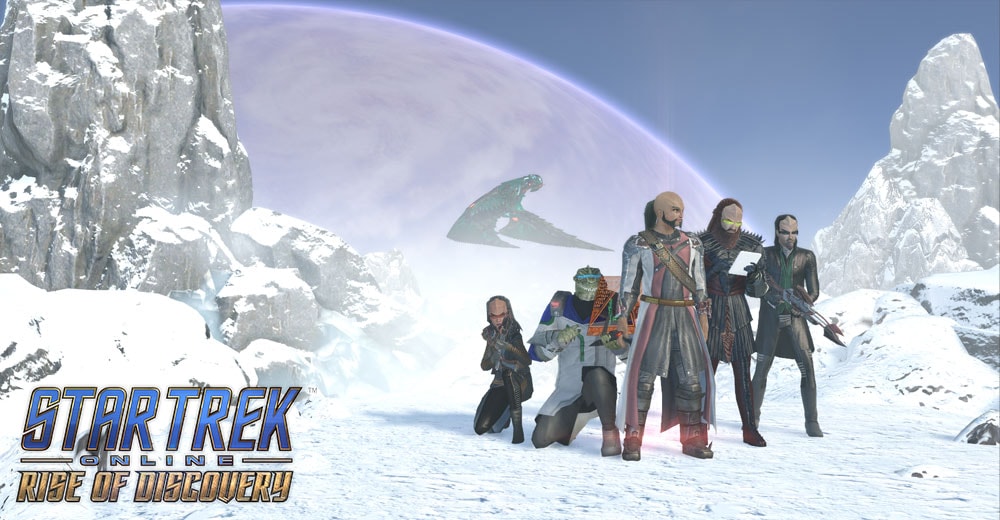 There's a new craze sweeping the galaxy, and it's cold weather gear! For reasons beyond the understanding of the higher ups at the Alliance, soldiers have been gathering in small groups and taking pictures of themselves in the frozen wastelands about the galaxy in their best winter getups. And we want you to join in, too! From May 20th to June 3rd, take a screenshot of your character and their bridge officers on the brand new Priors' World Character Select Screen, and send it to community@crypticstudios.com, with the subject line, "Winter Gear Contest." Make sure you put together your favorite gear – our artists will be picking the winner based on the coolest costume you can put together.
The grand prize winner will receive an STO prize package that contains:
- A retail copy of the game, signed by STO developers
- An MSD poster of the Defiant, signed by STO developers
- The exclusive STO badge from STLV last year
- An STO pin
Two runner ups with receive a prize package that contains:
- A retail copy of the game, signed by STO developers
- An MSD poster of the Defiant, signed by STO developers
Please do not modify the images, including cropping, in any way – just send us your favorite shot of the character select screen, your character, and their bridge officers in all their glory. Having the character select UI in the shot is totally fine. Take a screenshot of the entire screen, so that we can put a gallery later. We can't wait to see what you come up with!

The Return of Discovery TFOs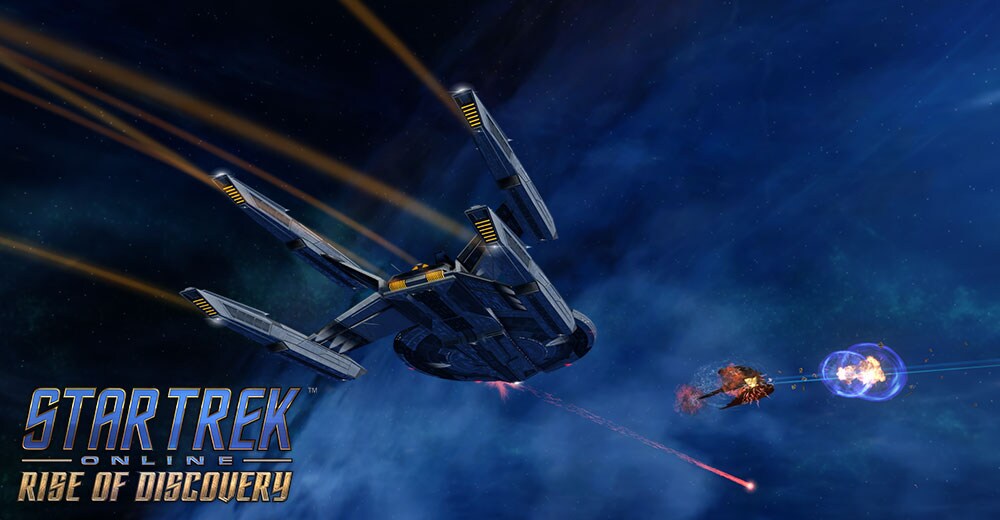 With the launch of the Discovery Legends Reputation, we want to make sure Captains have a wide variety of content in which to earn progress towards their new items. With that in mind, starting with the launch of Rise of Discovery on May 14th, you'll receive Discovery Marks from the returning Task Force Operations Pahvo Dissension, Peril over Pahvo, and Operation Riposte. The Defense of Starbase One will also be joining this reputation, switching over to grant a choice of Discovery Marks or Fleet Marks on completion. The Advanced and Elite versions of these TFOs will grant P.stellaviatori Spores as well. This means the reputation will be launching with four Task Force Operations that you can use to advance in it, and gain the technology and powers of the characters of Star Trek: Discovery. Enjoy, Captains.


The Section 31 Lock Box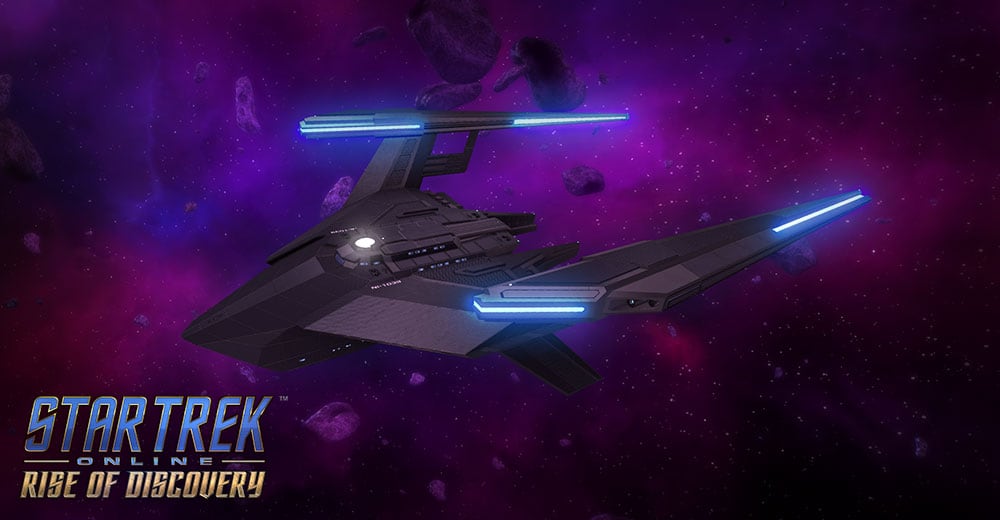 The Section 31 Lock Box contains unregulated tech, often secret prototypes that never saw full production, advanced technology waiting for wider adoption, and sometimes stranger things still—even "borrowed" Terran or alien technology. The less Starfleet science required, the more plausible the deniability.
This offering includes a ship, space weapons, personal traits, and an unusually large variety of universal consoles, starship traits and kit modules. Each box also contains a Faulty Section 31 Holo-Disguise which breaks upon entering combat, apparently some sort of economic inducement. Typical.
The Section 31 Lock Box contains two highly advanced Grand Prizes: the Section 31 Intel Science Destroyer [T6] and the Na'Qjej Intel Battlecruiser [T6]. More details about both ships will be available in a future blog post.
More information here: https://www.arcgames.com/en/games/star-trek-online/news/detail/11157043

Star Trek Online Spring and Summer Road Map!
It's time for an update to the Star Trek Online roadmap! Want to know what's coming in the world of STO? Here's some things for you to look forward to: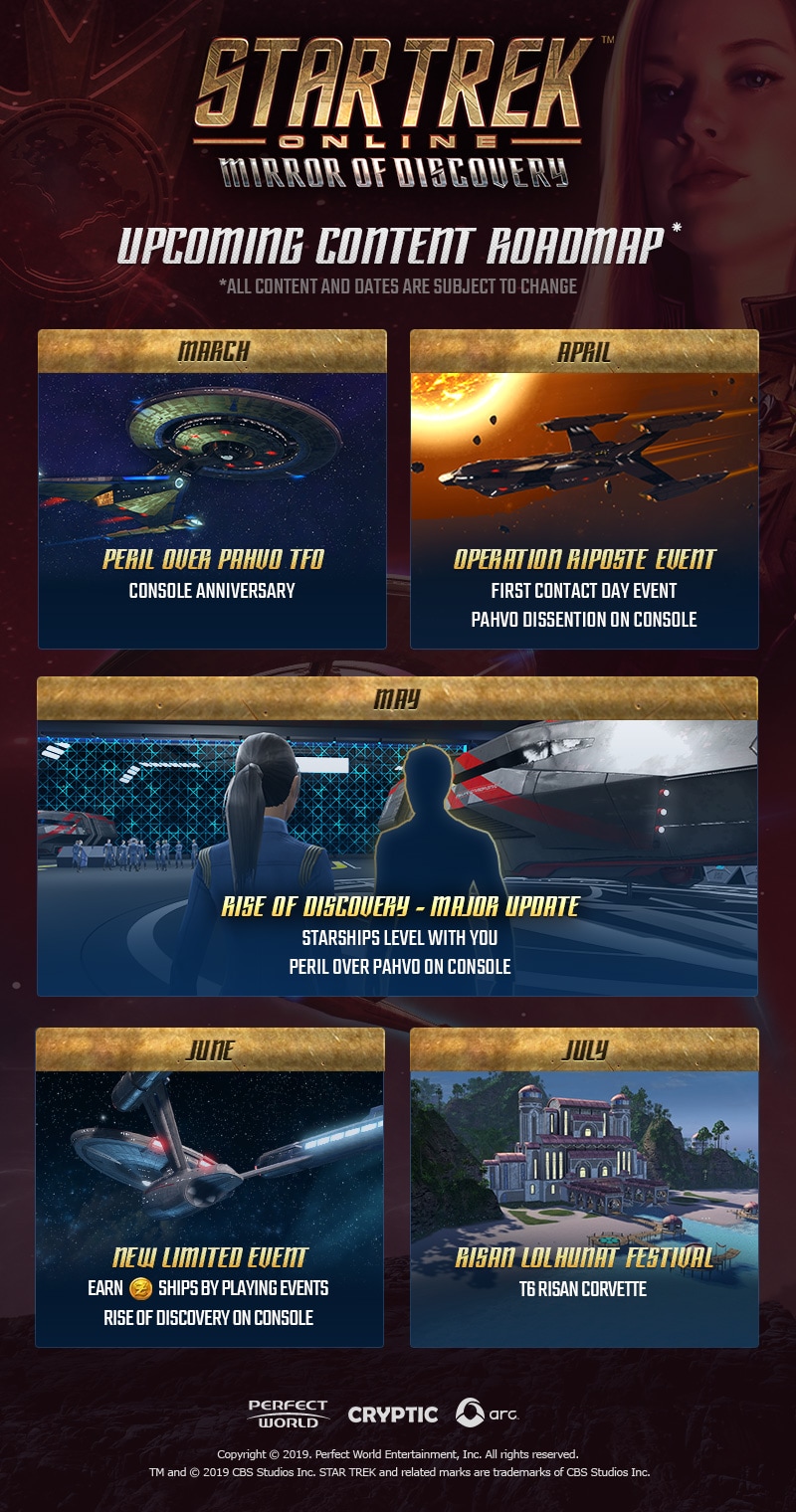 Enjoy the game!