Infinity Duty Officer Promotion!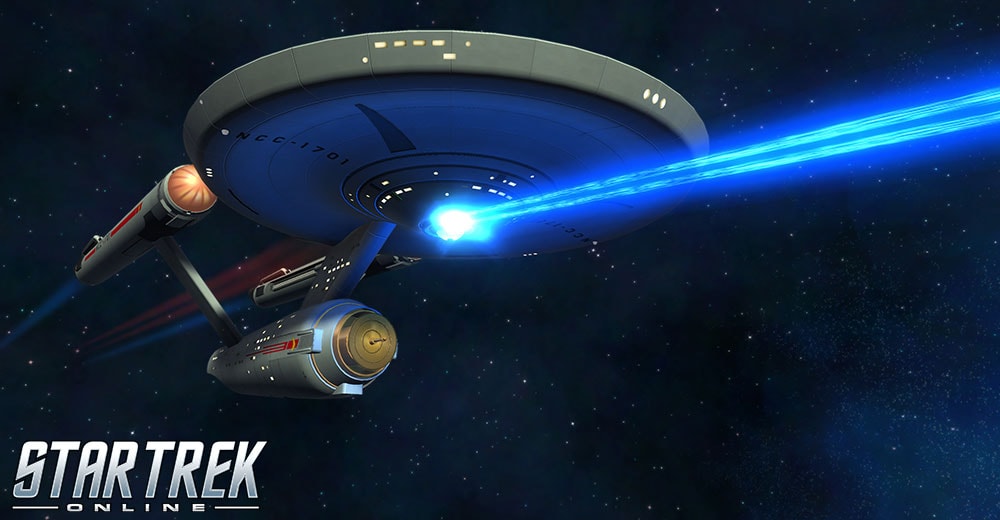 Captains!
We're happy to announce that you'll be able to enjoy 20% off all Duty Officer Packs! Captains can select from the following Duty Officer Packs for 20% from Thursday, August 15th at 8AM PT to Monday, August 19th at 10am PT.
Gamma Quadrant Duty Officer Cadre
Reinforcements Duty Officer Pack
Fleet Support Duty Officer Pack
Romulan Survivor Duty Officer Pack
Delta Alliance Duty Officer Pack
Delta Pack
Federation Pack
Klingon Pack
In addition to this sale, purchasing and opening any of the above packs (except the Fedeation and Klingon Packs) during this promotion will provide an extra bonus prize, on top of all the Duty Officer packs' existing contents! Opening any of them will be guaranteed to provide either 10 Lobi Crystals or a Special Requisition Choice Pack, which contains one of the Tier 6 Starships featured in previous similar promotions. The Special Requisition Choice Pack will be bound-to-character when received, but the pack for whichever ship is chosen can be freely traded with other players.
More information here: https://www.arcgames.com/en/games/star-trek-online/news/detail/11229273

Awakening: Beneath the Skin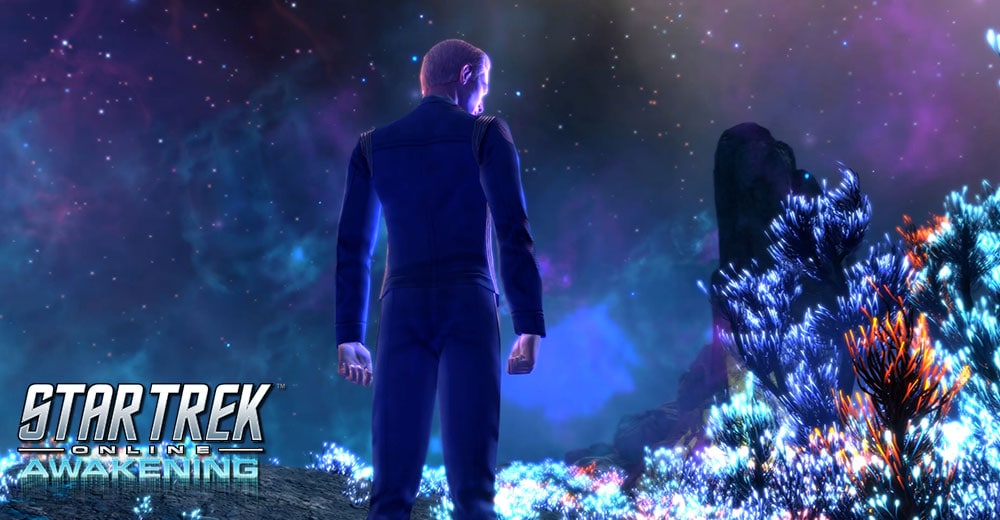 "My namesake once said Mycelium was 'like the Earth's internet'. He was right, but it turns out he was off on the question of scale. It's more like a quantum internet. For the universe." - Paul Stamets
Beneath the Skin is a brand new episode coming to Star Trek Online with the launch of Awakening, and brings the story of STO back to the year 2410. J'ula, the fierce and uncompromising Klingon warrior who was catapulted forward in time by the use of her Mycelial weapon in Age of Discovery, is now threatening Andoria with that very same weapon. In order to stop her, you'll have to use holographic technology to resurrect Paul Stamets, as played by Anthony Rapp. Together, your Captain and Stamets will venture into the Mycelial Network itself, to discover the source of Ju'la's power and put a stop to it.
This episode will be available for Captains who have completed the tutorial, as part of the Age of Discovery arc. It is coming to PC on September 10th, and Xbox One and Playstation 4 later this year.


Junior Officer Weekend!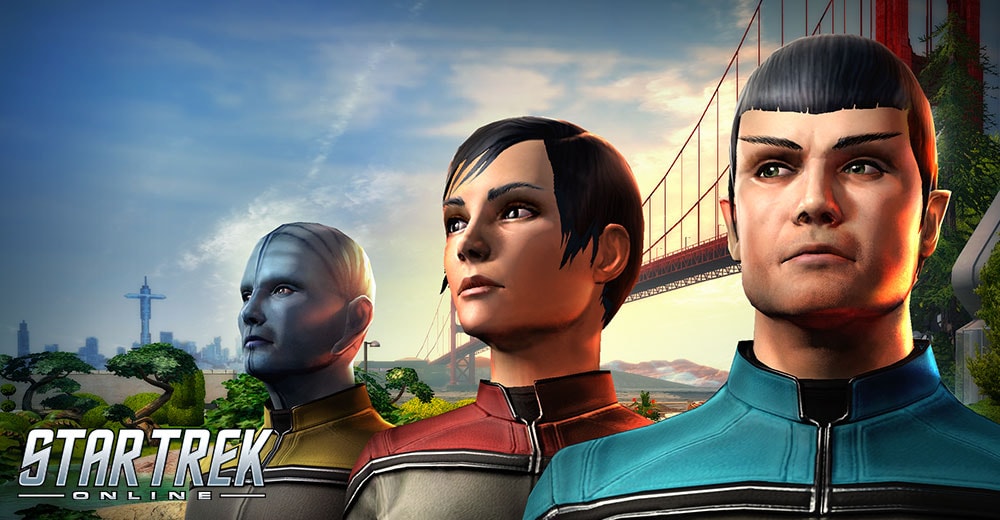 From Thursday, August 15th at 8AM PT to Monday, August 19th at 10am PT, we are running a special weekend event where you can earn Bonus Commendation XP by completing any Duty Officer assignments!
To those junior officers who work tirelessly in cramped Jefferies Tubes, perish namelessly on away missions, or provide the endless streams of reports and analysis necessary for a starship to function – this event is dedicated to you!
During this event, you'll gain a 50% increase in all Commendation XP earned by completion of Duty Officer assignments. You don't need to do anything special for this bonus – it's automatic.
Receive a FREE* special Purple quality duty officer with a unique active roster power by speaking with your duty officer contact. For Starfleet officers and Romulan allies, this is an engineering Exocomp duty officer; for KDF officers and Romulan allies, it is a Reman duty officer.
*This is not available if you already claimed it the last time we ran the event.
Duty officer packs** opened during the event will each have a FREE additional Green quality or better duty officer inside. This only applies to C-Store purchased packs, not to those awarded during rank-up, from recruitment assignments or mini-packs. Also, it applies only to packs opened during the event, even if they are purchased prior to the event.
**The packs included in this offer are: Delta Alliance Duty Officer Pack, Gamma Quadrant Duty Officer Cadre, Reinforcements Duty Officer Pack, Fleet Support Duty Officer Pack, Romulan Survivor Duty Officer Pack, Fleet Support Duty Officer Pack, Klingon Empire Duty Officer Pack and Federation Duty Officer Pack.
More information here: https://www.arcgames.com/en/games/star-trek-online/news/detail/11229263

The Arena of Sompek - Your Last Chance at a Free Ship!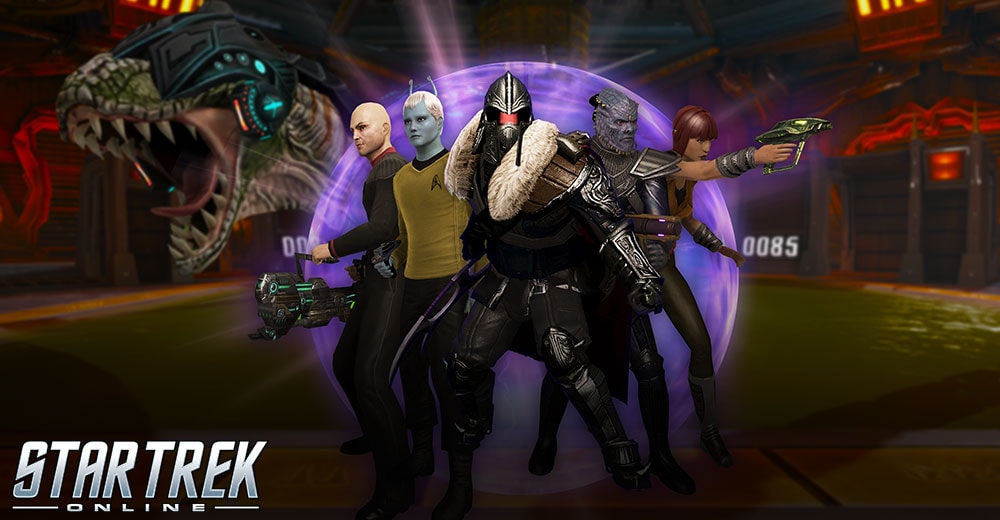 Beginning on August 8th, 2019, the combat trials of the Arena of Sompek will be returning as our next Featured Task Force Operation, with many changes to make the Arena easier to face on a daily basis. While this TFO is available, Captains may participate daily to earn progress towards a brand new Featured-TFO reward, as well as earning Coupon Progress toward a Tier-6 Starship Coupon.
This is the third and final FTFO in our Free T6 Ship Event. Don't miss this chance to finish your progress and get a free ship!
Continue reading for full details!
Reborn For a New Era
In anticipation of the Arena's return as a long-running Event, and in response to player feedback received during previous runs of this challenge, we have made a number of alterations to the structure of this Task Force Operation.
The minimum level for participation has been reduced from 50 to 10.
Romulan and Jem'Hadar characters must have chosen a primary allegiance.
There will no longer be a "Timed" and "Untimed" version of the TFO.
More information here: https://www.arcgames.com/en/games/star-trek-online/news/detail/11222513


Panel and Interviews from STLV!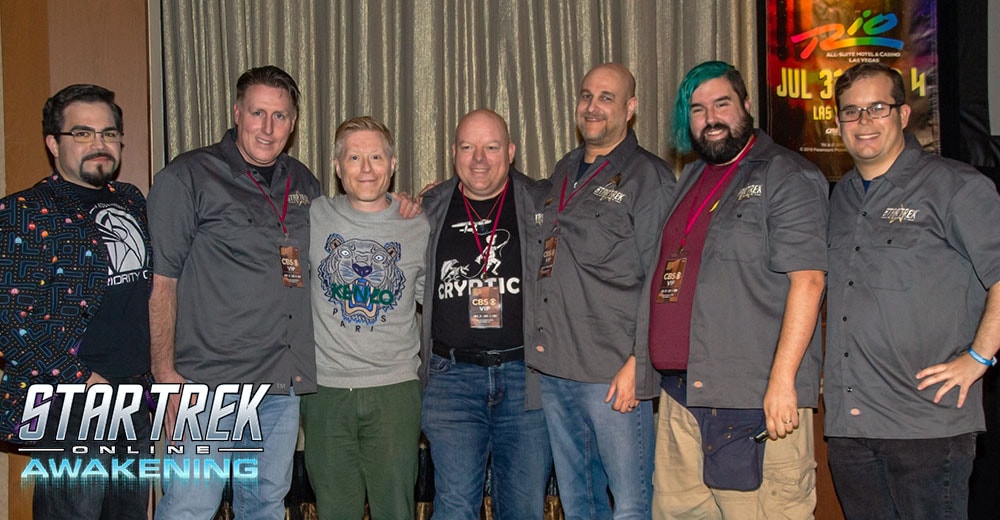 We're back from Star Trek Las Vegas, and boy do we have some news for you! This weekend, we were joined on our Star Trek Online: Awakening panel by Anthony Rapp himself, and we spent some time discussing the future of Star Trek Online, and everything coming up in the game. Luckily, Priority One: A Roddenberry Star Trek Podcast was there, not only to lend us a panel moderator in Elijah Lleo, but also to record the podcast and several interviews with the developers at the show. Want to hear more? Check out the link below.
Go here: https://www.arcgames.com/en/games/star-trek-online/news/detail/11226963


The Voth Evolve in the Infinity Lock Box!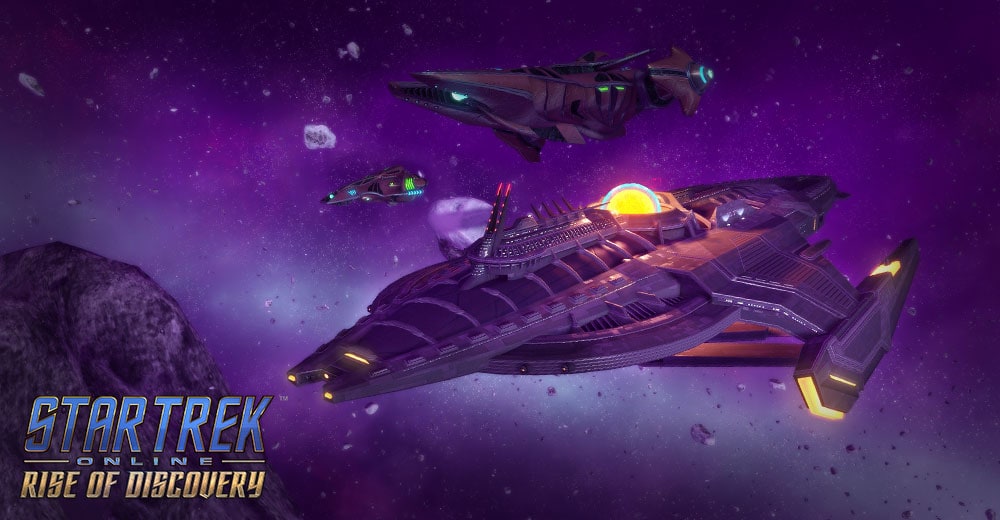 The Infinity Lock Box, containing prizes from nearly all previously-retired Lock Boxes, will be available again for an appearance beginning on PC on August 8th and on Xbox One and PlayStation 4 in September. During this time, enemies defeated on both Ground and Space maps will have a small chance of dropping one of these prize-filled packages.
This run of the Infinity Lock Box will feature the addition of the Emperor's Lockbox contents, Tier 6 versions of the Voth Flight-Deck Cruiser and Voth Science Vessel, and more! Continue reading further on for the full details on these new and updated starships!
More information here: https://www.arcgames.com/en/games/star-trek-online/news/detail/11225813
Star Trek Online: Awakening Appears September 10th!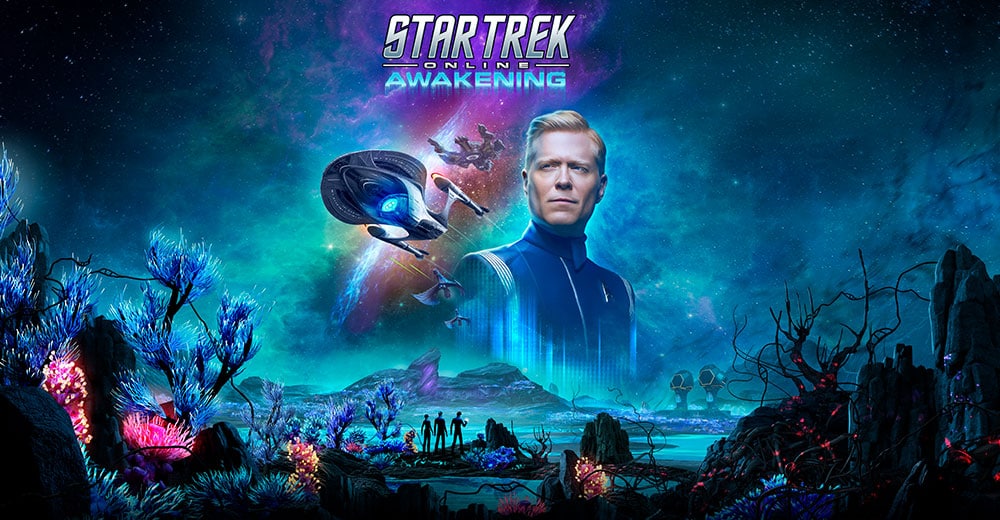 It's time to return to 2410, Captains. Our multi-part, expansion-over-time that began with Age of Discovery and ended with Rise of Discovery is now complete, and with it we've brought a ton of excitement to Star Trek Online. A entirely new faction, a revamped tutorial experience, and six new episodes starring beloved actors Mary Wiseman, Jason Isaacs, and Rehka Sharma brought the story of Star Trek: Discovery to Star Trek Online. We gave experienced players more to do with updates like Random Task Force Operations, Tier 6 Reputations, and Personal Endeavors. And we unleashed the Featured Task Force Operation system, bringing new stories and experiences to our game more often.
Now, we're moving back to our main setting, the year 2410. And we're bringing Anthony Rapp with us.
Rapp, known to Star Trek fans as Paul Stamets on Star Trek: Discovery, is the star of our next content update, Star Trek Online: Awakening. During Age of Discovery, players witnessed J'Ula and her Klingon forces steal Mycelial technology, which pulled them forward to the year 2410. Captains must now follow this ruthless Klingon matriarch back to the 25th century to ensure she doesn't corrupt the entire Mycelial Network in pursuit of her own dangerous agenda. Unfortunately, the insurmountable threat J'Ula poses to the universe also draws out the Elachi, who fear her actions will lead to the destruction of their home planet - and they will stop at nothing to protect it. In order to complete their mission, Captains must rely on the help of an astromycologist expert, a sentient hologram of the legendary Lieutenant Commander Paul Stamets from the U.S.S. Discovery to help them track down J'Ula and repair the tears she's caused in the fabric of space.
More information here: https://www.arcgames.com/en/games/star-trek-online/news/detail/11218993

2019/2020 Roadmap!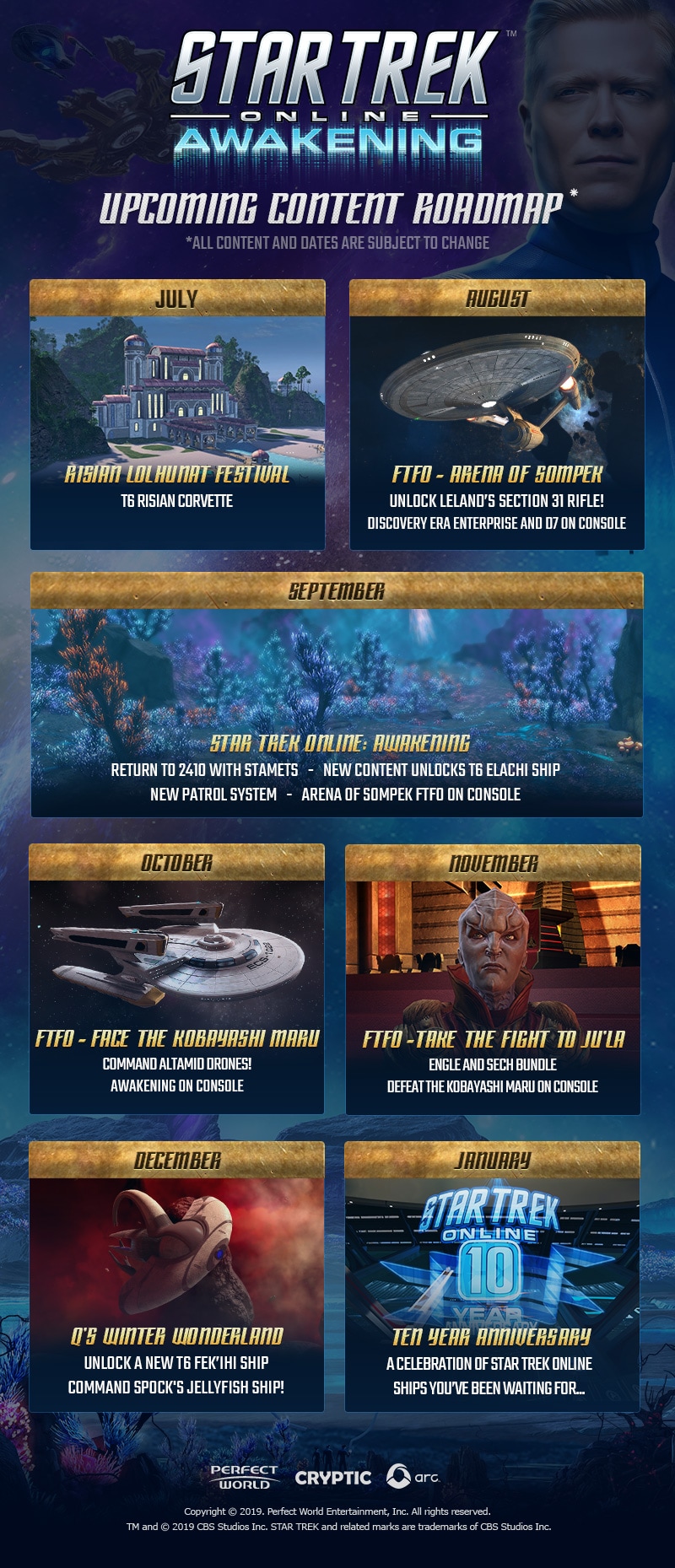 Enjoy the game!