Double Experience Weekend!



Attention!
We've doubled our efforts to give Captains the necessary experience to deal with threats to the Galaxy. From Thursday, December 19th at 8AM PT, to Monday, December 23rd at 10AM PT, players will be able to enjoy twice the experience!
During the event, content that provides skill points and expertise will reward a 100% (2x) Bonus above normal amounts – this bonus will be available for all content that rewards skill points and expertise.


Charge for Zen, Get a Bonus!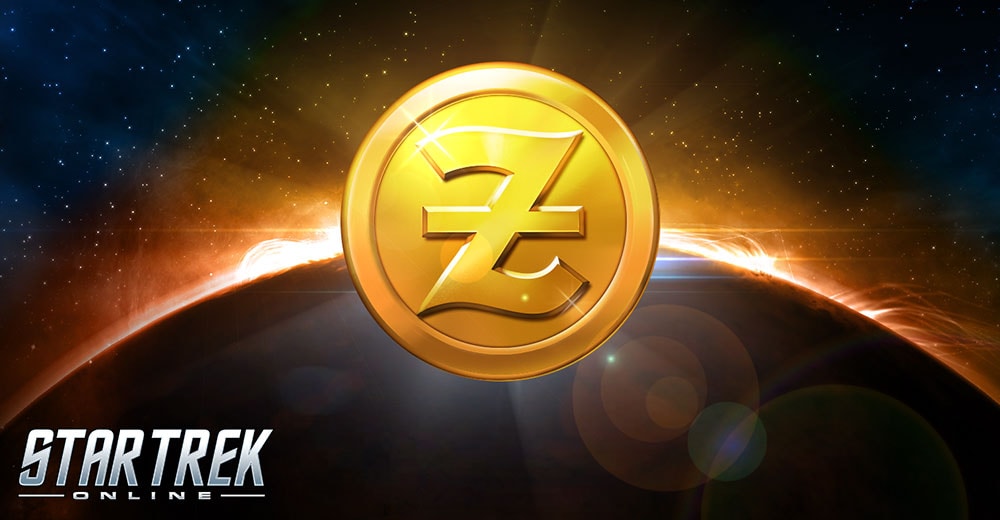 We have exciting news! Captains on PC will be able to enjoy a bonus on purchased ZEN! Is there a ship in the C-Store that is tempting you? Now is the perfect opportunity to grab ships, keys, and whatever else has caught your eye.
From December 19th at 9am PT to January 2nd at 9am PT, Captains will earn an extra bonus on purchased ZEN when you charge through Direct Credit Card, PayPal, Skrill, BoaCompra, Xsolla, Paysafecard, or Steam.
More information here: https://www.arcgames.com/en/games/star-trek-online/news/detail/11330903



Jingle Jam 2019!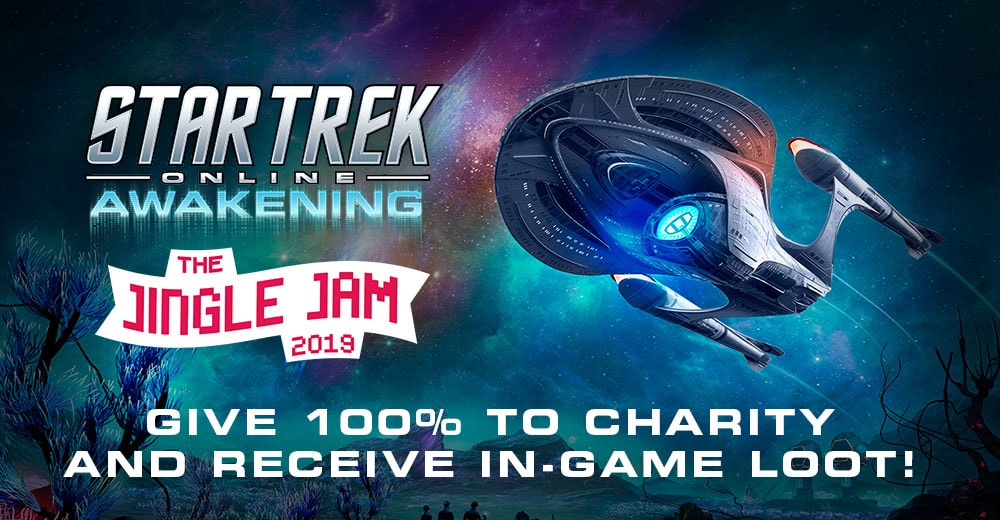 Greetings Captains!
Star Trek Online is proud to partner once again with Humble Bundle's December Bundle – YogsCast Jingle Jam 2019! Starting December 14 at 9am PT, STO will be offering the Federation Elite Starter Pack for this great cause! The Pack contains the following:
T6 Reliant Class - Advanced Light Cruiser (Scales as you level)
12 Inventory Slot
12 Bank Slots
2 Bridge Officer Slots
1 Borg Bridge Officer
13 Mark II Very Rare Space Gear
7 Mark II Very Rare Ground Gear
Starfleet Academy Uniform
Your contributions will go to help some amazing organizations! This year, by purchasing the bundle and paying a minimum of $30, you can again help a mix of charities across a variety of causes. For more details, please head to https://www.humblebundle.com/yogscast/yogscast-jingle-jam-2019.
Command Spock's Jellyfish!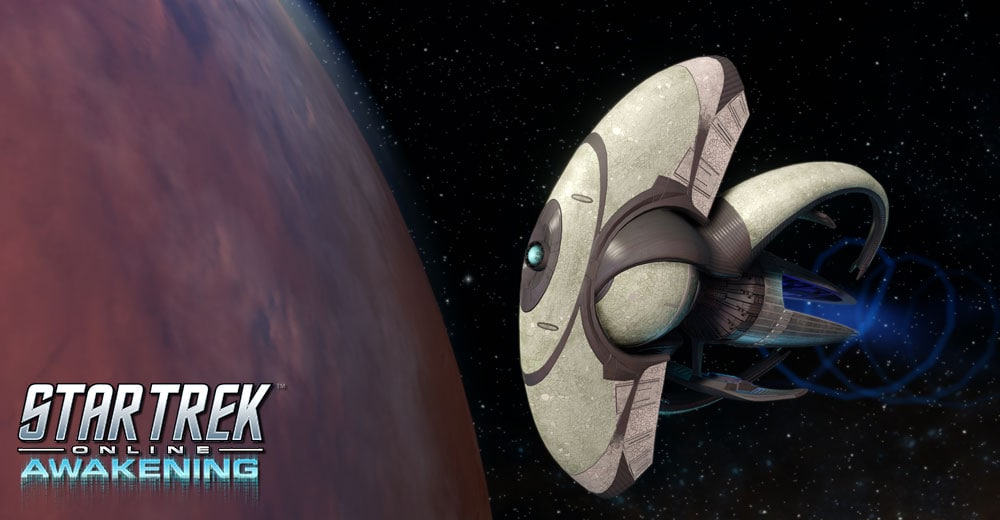 From December 3rd to January 2nd, we are running a promotion that will provide an additional bonus when opening a Research and Development Pack.
When you purchase a Research and Development Pack from the C-Store and open it, you will receive either 10 Lobi Crystals or a Special Requisition Choice Pack - Tier 6 Promotional Ship Choice Pack in addition to the Research and Development Pack.
We are excited to announce a new addition to this Promotional Ship Pack: Vulcan Experimental Scout Vessel!
Also known as the Jellyfish, this exciting vessel uses both new and old tricks, like Red Matter and Pilot Maneuvers, to keep it a Slippery Target. It also features a new Torpedo Launcher as a powerful defense mechanism.
** Complete stats/abilities of the Vulcan Experimental Scout Vessel are included at the end of this Dev Blog – keep reading for more information!
More information here: https://www.arcgames.com/en/games/star-trek-online/news/detail/11306933
Q's Winter Wonderland 2019!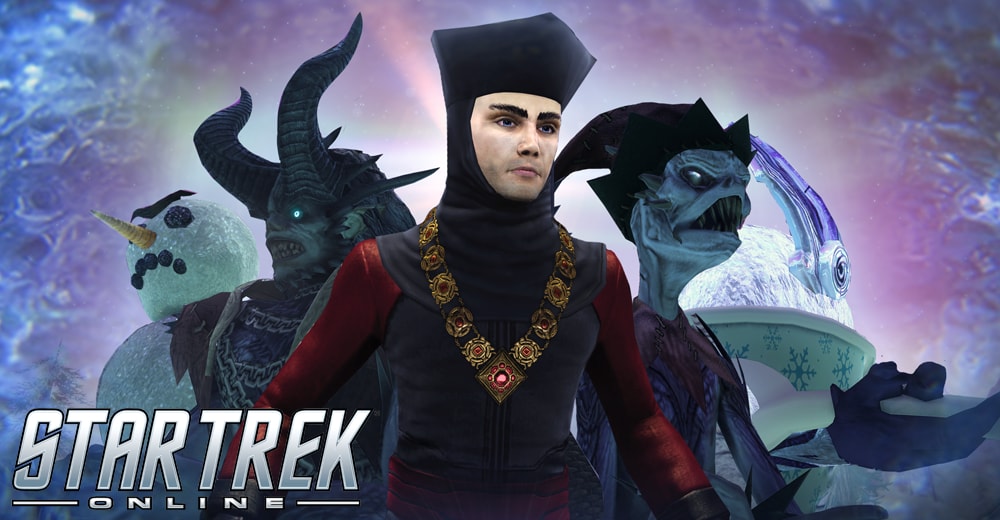 The seasonal favorite from years past is returning once more to Star Trek Online! Q proudly invites personnel of all ranks, allegiances, species, cosmological variances, and molecular stabilities (or lack thereof) to ring in the holiday season, and visit his Winter Wonderland for fun, frivolity, and prizes!
Participate in your choice of Winter Wonderland Activities to work your way toward obtaining the fabulous new Fek'ihri Fe'rang Dreadnought Carrier [T6]! Complete details of this ship's capabilities will be obtained in a separate Dev Blog.
More information here: https://www.arcgames.com/en/games/star-trek-online/news/detail/11306923


Welcome to Mudd's Market!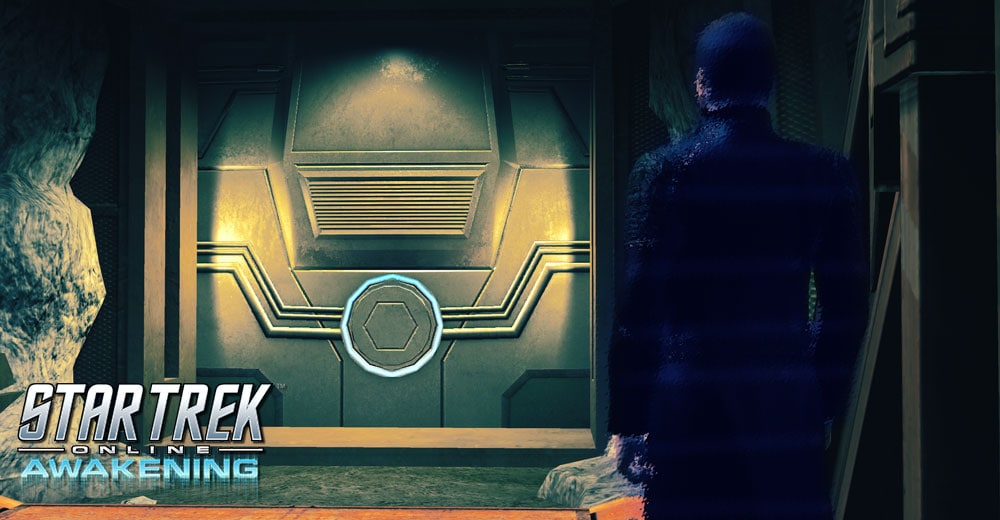 Star Trek Online is opening a new section of the Zen Store: Mudd's Market! In this new area, you'll be able to purchase items that have long been unobtainable in the game. Mudd's Market is a permanent addition to the game, and all of the items listed below will be available for purchase. But Mudd follows the market, and there may be times where he has a lot of stock to unload, or he feels the demand is too low for an item. There will, without warning, be drastic sales on these items, so it's important to check the Market every day to see if the item you're seeking is on sale! Don't delay, these items may not stay in the store forever. The Market will open for the first time on November 22nd at 8am PT.
More information here: https://www.arcgames.com/en/games/star-trek-online/news/detail/11300253

2019/2020 Roadmap!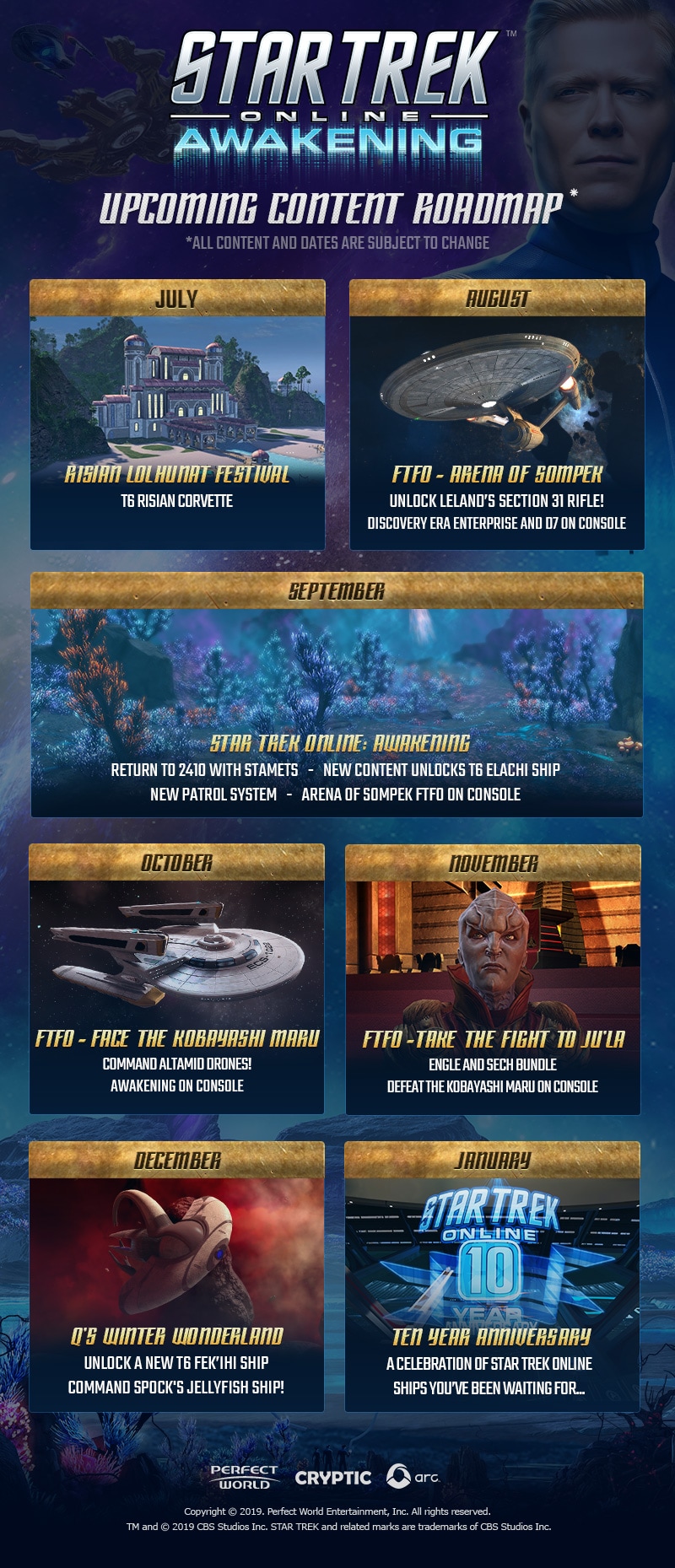 Enjoy the game!
Pimp the Fleets V7.0
Start Date: January 1, 2019
End Date: December 31, 2019
Groups involved: All STO playing DB members
Awards: Cr-Q - Cr-D monthly - BN - GN and Cr-E - Cr-D annual
Description:
Every month I will calculate the donations every DB member did to the EH ingame fleets in STO. With those donation points I will built up rankinglists for each fleet section and an overall rankinglist for each fleet. Awards will be Cr-E for first, Cr-T for second and Cr-Q for third in each section, Cr-A for first, Cr-R for second and Cr-E for third overall in each fleet.
At the end of the year, based on the amount of donations, there will be an annual rankinglist for each section and one for each fleet. Annual awards for each section will be Cr-A/Cr-S/Cr-E for 1st/2nd/3rd, for the winners in each fleet Cr-D/Cr-R/Cr-A for 1st/2nd/3rd.
To better compare the monthly donations to both fleets, the participants will earn overall points for placement in the section ranking lists, 4 points for first, 3 points for second, 2 points for third and 1 point for all other participants in that section. These overall points will be summed up for each member and a ranking list based on these will be used to crown the overall winner for the month. First place in that ranking list will receive the prestigious Cr-D, second a Cr-R, third a Cr-A.
These donation points will be summed up and put into a rankinglist at the end of the year. The annual winner in this rankinglist will receive a Gold Nova, the second placed a Silver Nova and third a Bronze Nova.
Comp Admin: SK Earnim Branet

More competitions here: